Fast Delivery
UAE and Worldwide
Top Rated
Original Products
Reward Points
Cashback
Secure Payments
COD and online
International Shipping
Description
Rustler Nintendo Switch is an open-world, top-down action game paying tribute to the good old GTA 2 style and gameplay, fusing it with a historically inaccurate medieval setting. Play as Guy, whose parents apparently were too lazy to give him a proper name. Experience feudal injustice, witch-hunting, and join big tournaments. Meet valiant, yet incredibly stupid knights. Complete a wide variety of twisted missions and quests, or don't give a damn about the plot and bring mayhem in the villages and cities. Choose to go on foot, or by a stolen horse. Fight with a sword or pick a fancy automatic crossbow. All that, spiced up with an inappropriate Monty Python inspired sense of humor.
 Grand Theft Horse - Win the Kingdom or Tear it Down Complete insane quests, kill heroes, steal horses, fight guards, rob peasants, and become the ultimate medieval thug in this old school, open world action game full of pop culture references! Classic GTA-gameplay gets a medieval makeover. The Great Tournament is offering the hand of the princess as a prize. Go from local brigand to champion. Or don't. Guy (that's you) and his friend (conveniently named Buddy) are out to win the prize with holy hand grenades, pimped out horses, and their own personal minstrels in tow. It's madness and mayhem with true comedic flair.
Grand Theft Horse: Wreak havoc in a medieval world inspired by classic GTA gameplay. Use swords, spears, turds – whatever will get the job done!
Wear the Crown: As a poor peasant, you'll need to get creative in order to win the Great Tournament. Form weird alliances, double cross your foes, and dig up dinosaur skeletons (because, why not?).
A Medieval Sandbox: How you progress is up to you. Spend your time completing quests, wreaking havoc and having a laugh at the expense of others!
A Lot of Horsin' Around: Shoot cows into the sky, drag your neighbors through the mud, toss some holy hand grenades, or draw fancy pictures in the field with a plow.
Minstrelsy of Power: Hire a musical companion to play the tunes you like and add a powerful soundtrack to your adventures.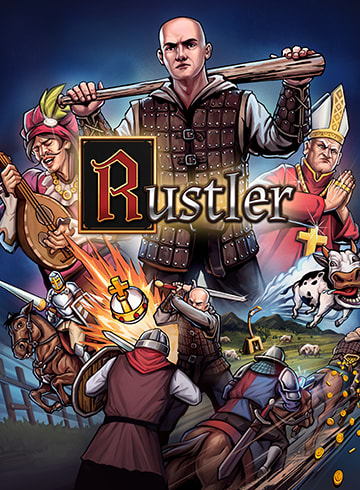 Release date:August 31, 2021
Players:1 player
Genre:Action, Adventure
Publisher:Modus Games
Developer:Jutsu Games
Game file size:1.8 GB
Supported Languages: Japanese, French, German, Italian, Spanish, Korean, Russian, Chinese, Portuguese, English Supported Play Modes:
TV mode
Tabletop mode
Handheld mode